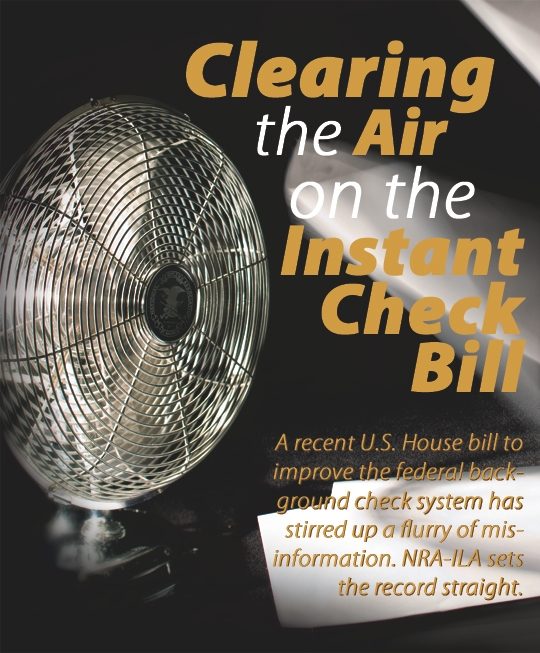 On June 13, the U.S. House of Representatives passed a bill to improve the National Instant Criminal Background Check System (NICS). The bill (H.R. 2640, the "NICS Improvement Amendments Act") would create incentives for states to upgrade their records on criminals and others currently prohibited from buying guns.
While gun owners are often rightly skeptical about what they read in the press, far too many have fallen for the media line that this is a "gun control" bill that came about as a result of the horrific murders at Virginia Tech. From NRA's perspective, the history of the bill goes back farther--to the earliest days of the instant check system, after it replaced the five-day waiting period created by the original Brady Act. (NRA, of course, opposed the original Brady Bill and its waiting period, supported amendments to force a transition to the instant check system and opposed later bills to make the waiting period permanent.)
In the late 1990s, gun buyers often experienced ridiculous delays while NICS sorted through cases of mistaken identity or incomplete police records. Many purchasers were wrongly denied and forced to go through a cumbersome appeals process. At the same time, state officials testified before Congress about woefully incomplete records they provide to NICS--a problem confirmed in recent reports by the U.S. Department of Justice.
H.R. 2640, like similar bills introduced since 2002, was meant to address those problems. State and federal agencies would supply updated records and would also have to remove incorrect records or records that no longer apply--for instance, when a person has an old criminal conviction expunged by a state judge.
More accurate records would mean fewer wrongful delays and denials. More honest citizens would be able to exercise their right to arms, while potentially dangerous people could be screened out more effectively. There's just no sound reason to let the system be as incomplete as it's been for the past nine years.
At press time, this bill is scheduled for debate in the Senate Judiciary Committee. We don't know how that will turn out, but rest assured that as the bill moves through the legislative process, NRA will be on the lookout for any attempt to amend it into a gun control "wish list." If that happens, we will withdraw our support and actively oppose its passage. In the meantime, unfortunately, a lot of misinformation about H.R. 2640 has circulated, especially in the clogged lanes of the Internet's "information super highway." The rest of this article will answer some of the questions NRA members have asked about this bill.
Does H.R. 2640 ban guns for anyone who's ever seen a psychiatrist or received any other mental health treatment?
Absolutely not. H.R. 2640 doesn't ban anyone from owning guns--it only makes records available on those who are already "prohibited persons."
When it comes to mental health conditions, the only people who can't own a gun under federal law are those who have "been adjudicated as a mental defective or . . . been committed to any mental institution." Regulations from the Bureau of Alcohol, Tobacco, Firearms and Explosives (BATFE) define those terms too broadly in some ways, but narrowly in others. H.R. 2640 refers to those definitions, but only to help agencies figure out what records to provide to NICS; it doesn't ban anyone new from buying or owning a gun.
Some critics of H.R. 2640 claim that BATFE's regulation would impose a gun ban based on any psychiatrist's diagnosis that a person "[i]s a danger to himself or to others . . . or . . . [l]acks the mental capacity to contract or manage his own affairs." But that's not true, because basic legal definitions mean that an "adjudication" can only come from a court or similar body. As cosponsor Rep. John Dingell (D-Mich.) said in the Congressional Record, adjudication is a formal process, "not just a doctor's notes on a patient's charts."
Finally, of course, ordinary doctors' records--whether on mental health or anything else--are private under federal and state laws, as well as longstanding legal and medical tradition.
"The confidentiality between a doctor and patient is sacred, and we do not intend to breach it, " said Rep. Dingell.
H.R. 2640 doesn't ban anyone from owning guns--it only makes records available on those who are already "prohibited persons."
How does the bill affect veterans?
Some have asked if H.R. 2640 would prohibit gun ownership by veterans--for instance, those who return from war with conditions such as post-traumatic stress disorder.
The answer, fortunately, is "No." For all the same reasons a psychiatrist's diagnosis can't ban gun ownership, an evaluation by Veterans' Administration (VA) or other doctors isn't an "adjudication" or "commitment" under federal law.
In fact, H.R. 2640 aims to fix problems for veterans and their families. During the Clinton administration, the VA started sending information to NICS on veterans (and veterans' family members) who had representatives appointed to handle their benefit checks.
The VA treated these records as "adjudications," but supporters of H.R. 2640 disagree. Rep. Daniel Lungren (R-Calif.) denounced the VA's "overreach" and pointed out that H.R. 2640 would allow wrongly listed veterans to seek restoration of their rights. [Note: If you are a veteran and have been denied a gun purchase due to the VA's actions, please call NRA-ILA's Legislative Counsel at (703) 267-1160.]
What records would NICS get from the Department of Homeland Security?
The bill requires federal agencies to provide records on people prohibited from possessing firearms. Homeland Security includes all the agencies (such as Immigration and Customs Enforcement, and the Border Patrol) that have records on known illegal aliens. Illegal aliens, of course, have been prohibited from possessing firearms in the U.S. since 1968.
Why did NRA support a bill sponsored by anti-gun Rep. Carolyn McCarthy (D-N.Y.)?
NRA-ILA looks at every bill on its own merits, asking one basic question: Will this bill be an improvement for gun owners and all Americans, compared to current law? For example, NRA supported arming airline pilots for defense against terrorists, even though anti-gun Senator Barbara Boxer (D-Calif.) joined pro-gun Senator Bob Smith (R-N.H.) in leading that fight.
Sponsors of the NICS improvement bill include Reps. John Dingell (the only current House member who voted against the Gun Control Act of 1968), Lamar Smith (R-Texas) and Rick Boucher (D-Va.)--all of whom are longtime supporters of gun owners' rights and sponsors of many pro-Second Amendment bills.
Why didn't the Congress have a roll call vote on this bill?
Voice votes are standard procedure in the U.S. House; every bill first gets a voice vote, followed by a recorded vote only if a House member asks for it and 20 percent of the House agrees. No one even asked for a recorded vote on H.R. 2640--which is not at all unusual for a bill with such broad support in both political parties.
Relief in Sight?
by Stephen P. Halbrook, Ph.D.
The Gun Control Act of 1968 imposed a lifetime ban on firearm possession by any person who was ever adjudicated as a mental defective or committed to a mental institution. The Firearms Owners' Protection Act of 1986 provided that such persons could petition BATFE for removal of such disabilities, but Congress has prohibited that procedure in annual appropriations acts. For the first time since 1968, the "NICS Improvement Amendments Act of 2007," H.R. 2640, would allow the states to provide procedures to remove these federal disabilities, and also require federal agencies to adopt disability removal procedures.
Imposing a lifetime firearm ban on all persons who were ever subject to such adjudications or commitments, without any hope for such persons to prove themselves recovered, is cruel and vindictive. H.R. 2640 would remedy this injustice and allow restoration of such persons' Second Amendment rights.
Almost all mental commitments and adjudications occur under state law. This bill requires states to have procedures to allow such persons to show that they would not be a danger to public safety. Under H.R. 2640, the State "shall grant the relief" if the person is unlikely to endanger the public. The person would also have the right to appeal a denial to a state court. This is the first time since the ban was imposed in 1968 that persons could seek relief at the state level, thereby reforming current law which only authorizes BATFE to decide on relief. When BATFE used to administer such a program, it granted relief about 40% of the time, but Congress has circumvented that law by defunding the BATFE program.
The Veterans' Administration and other federal agencies also conduct certain adjudications and commitments, and the bill provides for removal of these disabilities by these same agencies—rather than by BATFE—and for judicial review of any denial. Many people could also get relief from a provision in the bill that excludes adjudications or commitments where the person has been "fully released or discharged from all mandatory treatment, supervision, or monitoring."
Passage of H.R. 2640 would, for the first time in their lives, give hope to persons who in the past were subject to a mental commitment or adjudication and have recovered their mental health. Current law only serves to sentence such persons to a lifetime ban on firearms without any chance of ever redeeming their Second Amendment rights.
Stephen P. Halbrook is an attorney and author in Fairfax, Virginia. His latest book is The Founders' Second Amendment (Stanford University Press, 2007). For more information, visit www.stephenhalbrook.com.