On Friday morning, Governor Greg Abbott (R) signed into law Senate Bill 16, NRA-backed legislation that brings Texas' License To Carry application fees down to among the lowest in the country.  Sponsored by State Sen. Robert Nichols (R-Jacksonville) and Joan Huffman (R-Houston), designated a priority bill of Lieutenant Governor Dan Patrick (R), and managed in the House by State Rep. Phil King (R-Weatherford), SB 16 significantly reduces LTC fees in the Lone Star State to make self-defense more affordable for all law-abiding Texans.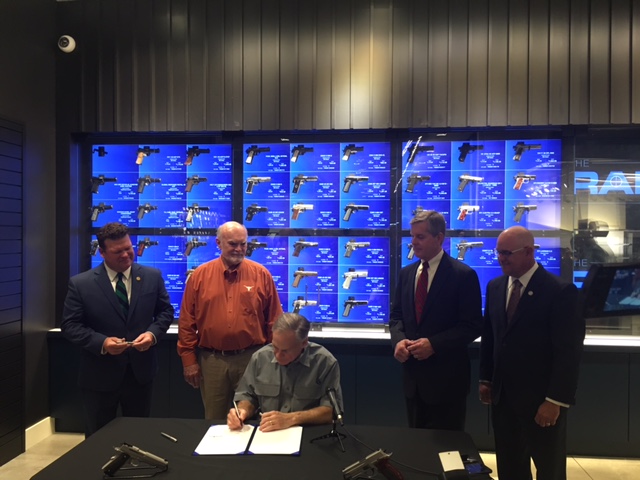 At $140, the current fee for an original Texas license is among the highest in the nation.  SB 16 slashes the cost of an original license by $100 to just $40, and cuts the cost of a renewal license from $70 to $40.  In other words, the annual cost of a five-year LTC would now be just $8 per year.  The new law will take effect on September 1. 
NRA-ILA would like to thank our members who contacted their state Senators and Representatives in support of this important bill throughout session, the state lawmakers who voted for SB 16, as well as State Reps. Dustin Burrows (R-Lubbock) and Kyle Kacal (R-College Station) for sponsoring similar measures -- House Bill 339 and House Bill 1024, respectively.  All versions of this important legislation helped raise awareness of the need to address the high cost of a carry license in the Lone Star State!