Rhode Island Governor Gina Raimondo convened a task force focused on "gun safety" last April, comprised predominantly of members drawn from "the judiciary, the Attorney General's Office, state and local law enforcement agencies, gun violence prevention advocates, mental health advocates, public health experts, educators, and other community members, including affected families and youth." A number of university professors are included in the ranks.
That working group issued its Final Report and Recommendations last week. The report could have been published by Everytown (which is cited as a source of statistics on "high capacity magazines") or any other anti-gun organization; it's nothing more than a laundry list of policy recommendations that have failed elsewhere or were rejected by voters, and fail to address the cause of the problem. The working group wants to treat "gun violence" with a "public health approach" but would rather blame firearms and punish law-abiding gun owners than address crime or suicide.
Before we explore the group's recommendations, let's first consider the state of "gun violence" in Rhode Island. Initial readings of the report may surprise some readers with the consistent use of national statistics in a report compiled by leaders at the state level, who have access to state-level data and the Governor's support to "study gun violence reduction strategies."
From the report: "Nationally, gun-related deaths rose for the last three years after remaining relatively flat for almost fifty years." Note that this includes suicides as well as homicides, despite the chasm of difference in appropriate policy solutions for each. Let's first look at death rates in Rhode Island specifically.
The group does acknowledge that "in Rhode Island we are fortunate to have a low rate of firearms deaths as compared to the national average…" The chart below reveals that the rate of homicides involving firearms has been declining over the last 17 years while the rate for suicide by firearm has a general upward trend. The rate for total firearms-related deaths (regardless of intent) has been declining over this time period.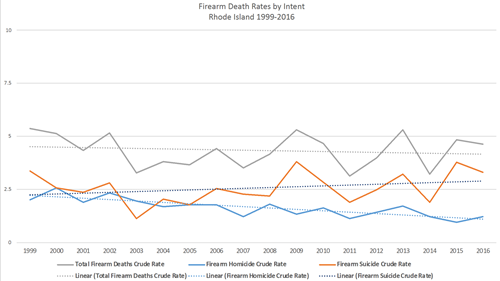 With that understanding of Rhode Island "gun violence" trends, let's examine some of the working group's recommendations.
A majority of the working group wants to ban "military style assault weapons." The minority does not believe a ban would be necessary if the state prohibited anyone under 21 from purchasing or possessing a firearm of any type, placed more restrictions on the ability to purchase such firearms including a test, and required registration of all so-called "assault weapons." The working group "unanimously supported a ban on the sale, purchase, or possession of all magazines capable of accepting, or that can be readily converted to accept, more than ten rounds of ammunition."
The working group claims that a study found the 1994 "ban on large capacity magazines (LCM) largely had a greater impact on a drop-in gun violence. That very study actually found that "Because the [ban] has not yet reduced the use of LCMs in crime, we cannot clearly credit the ban with any of the nation's recent drop in gun violence." The working group claims that study found that "The use of assault weapons in crime declined by 70% nine years after the 1994 Assault Weapons Ban took effect" but they really mean the number of traces for assault weapons declined by 70%. The number of traces is not necessarily the same as the number of crimes.
We know that an "assault weapons" ban won't work because it didn't work. The Rand Corporation found assault weapons bans – and bans on "high capacity" magazines – had uncertain effects on total homicides and firearms homicides because the evidence is inconclusive.
Let's bring the focus back to Rhode Island instead of using national data.
How many people were killed with long guns of any kind in Rhode Island? Thirteen, between 1999 and 2016. That includes shotguns, which share the same mortality code as rifles. According to FBI data, there were eight murders with a firearm in Rhode Island in 2017. None were committed with rifles. The working group frequently cites laws in Massachusetts as an example of what Rhode Island "should" do, but fails to notice that firearms make up a larger percentage of all murders in Massachusetts (58%) than in Rhode Island (40%), and that Rhode Island has had a lower firearms homicide rate than Massachusetts for seven of the last ten years, including the last three consecutive years (using CDC data, available through 2016).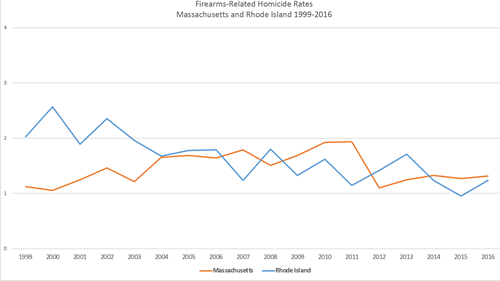 The Rhode Island Working Group for Gun Safety also dedicates sections of their report to laws pertaining to seizing firearms from those deemed to be a danger to themselves or others and prohibiting firearms on school grounds, but Governor Raimondo and her allies in the state legislature didn't give the working group a chance to complete their task before enacting such laws. Raimondo issued an Executive Order prohibiting firearms at schools (exempting only law enforcement) and signed a gun control bill that gave even the ACLU concerns because of it's lack of procedural protections. Both of those actions were undertaken between the authorization of the Working Group for Gun Safety and the issuance of the group's final report. The group had only met twice before the Governor issued the executive order. The authorization for the working group explicitly instructed it to study red flag laws and policies.
The timeline makes one question the value of the working group, considering the very person who created the group didn't wait to read its recommendations. This is just another example of how anti-gun politicians and their allies will do or say whatever it takes to enact the same tired gun control proposals.