On Sunday, August 27th, Kansas State Rifle Association (KSRA) President and NRA-ILA state director, Travis Couture-Lovelady, was joined by leaders of KSRA and the Stoneking family to present former KSRA President Patricia Stoneking with the NRA-ILA Distinguished Advocate Award, the highest honor that the NRA-ILA can bestow. Patricia received this award for her lifelong and unwavering commitment to the protection of Kansans' Second Amendment right.
This is not the first time Patricia has received recognition for her efforts to protect and strengthen your right to keep and bear arms. She was the winner of the 2008 Marion P. Hammer Women Of Distinction Award, a very special award reserved for women who make exceptional contributions to the preservation of the Second Amendment and the shooting sports through education, advocacy, volunteerism, and legislative activism in support of the goals of the NRA.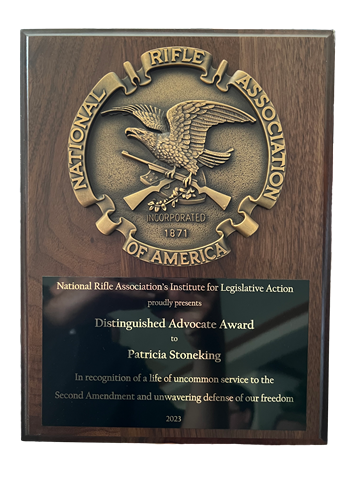 Patricia's advocacy led to volumes of pro-Second Amendment legislation being passed in Kansas over her years of service. She led the charge for the passage of constitutional carry and adding protections for concealed carry card holders' identities, so that none would ever have to fear for their safety. She advocated for multiple laws expanding where both civilians and law enforcement officers can lawfully carry, including legislation stopping government entities from prohibiting employees from carrying. She fought for harsher penalties for criminals who steal or unlawfully use firearms in the commission of crimes, while removing undue burdens from law-abiding Kansans. In 2010, her advocacy led to the passage of the Kansas Constitutional Amendment to strengthen the language of the right to bear arms, which was passed by an overwhelming 88.2% majority. Patricia's dedicated leadership and unfaltering service has directly impacted all Kansans and played a key role in your ability to exercise your Second Amendment right in the state.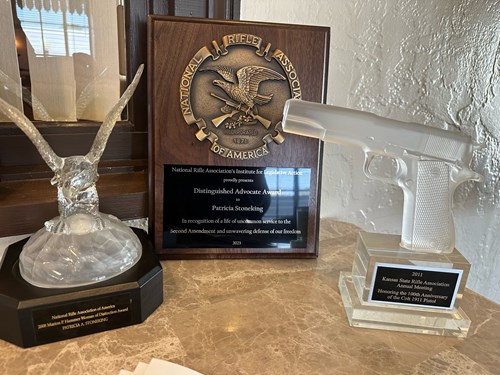 In addition, last month, Patricia was formally presented with the title of Director Emeritus by the KSRA Board of Directors, another prestigious honor befitting of a pillar of our 2A community.
Sadly, Patricia passed away on August 29th, 2023, surrounded by her loved ones, a loss that the entire Second Amendment community will feel. The Alden-Harrington funeral home has published her obituary, which you can read here.
In Patricia's honor, we will continue to fight just as hard as she did to ensure that your right to keep and bear arms is defended, so that all Kansans, present and future, can enjoy the right Patricia fought so hard to protect.